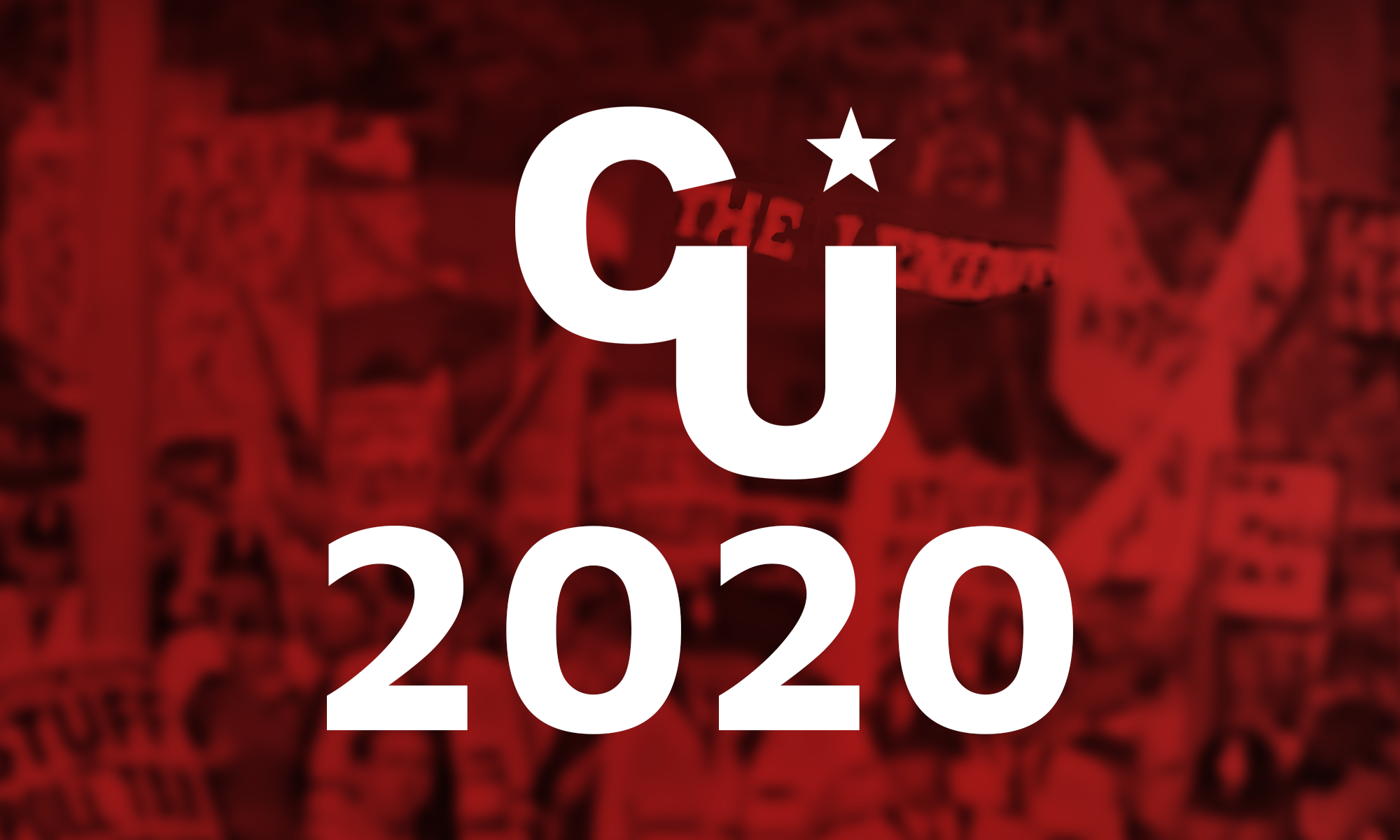 Due to COVID-19, Communist University 2020 will be held online 14th to 22nd August 2020 
We have an amazing list of speakers including:
John Riddell, Lars T Lih, Dan Lazare, Ilan  Pappé,  Moshe Machover,  Marcel Van Der Linden, Hillel Ticktin, Paul Kelemen, Chris Knight, Michael Roberts, Ian Wright,  Jack Conrad, Mike Macnair, Yassamine Mather
COMMUNIST UNIVERSITY 2020 – PROVISIONAL TIMETABLE
 Times are in British Summer Time (UTC+1)

10:00 – 12:30
10am – 12.30 pm
16:30-19:00
4.30pm – 7pm

Friday
14 August

The Crisis of the Labour Left
Jack Conrad

Registration link:
Zoom link

How the united front policy took shape
John Riddell

Registration link:
Zoom link

Saturday
15 August

Palestine/Israel: illusions, solutions and demands
Moshé Machover

Registration link:
Zoom link

The unwritten constitution: the birth of Soviet Russia in March 1917
Lars T LihRegistration link:
Zoom link
Sunday
16 August

The post-pandemic economy: will the capitalist economy recover quickly, will it return to 'normal'? If not, what will be different if and when the pandemic ends? What are the unresolved contradictions ahead?
Michael Roberts

Registration link:
Zoom link

Theorising the US constitution
Daniel Lazare

Registration link:
Zoom link

Monday
17 August

Britain's Israel: what does it stand for?
Paul Kelemen

Registration link:
Zoom link

The Ongoing Ethnic cleansing of Palestine.
Ilan PappéRegistration link:
Zoom link
Tuesday
18 August

Foundation of the CPGB and the lessons for today
Jack Conrad

Registration link:
Zoom link

Workers and revolutions: a historical paradox
Marcel van der Linden

Registration link:
Zoom link

Wednesday
19 August
Can Brexit reunite Ireland?
James HarveyRegistration link:
Zoom link
Did gender egalitarianism make us human?
Camilla PowerRegistration link:
Zoom link
Thursday
20 August
Iran – Trump , Saudi Arabia and Israel
Yassamine MatherRegistration link:
Zoom link

Growth, 'degrowth' and planning
Mike Macnair

Registration link:
Zoom link

Friday
21 August
Did matriarchy ever exist?
Chris KnightRegistration link:
Zoom link
Covid-19 and pandemics
Mohsen ShahmaneshRegistration link:
Zoom link
Saturday
22 August
Marx on capital as a 'real god'
Ian WrightRegistration link:
Zoom link

NB – 4.00pm

CU Evaluation

Registration link
Please register on the links above 

For a flavour of previous years, check out the videos in our video archive.

Email office@cpgb.org.uk to confirm your reservation . This year's CU is free of charge online.
If you would like to make a contribution to the technical costs of hosting the event please  follow the instructions below:
Cheques: Make payable to CPGB and send to: BCM Box 928, London WC1N 3XX.
Bank transfer:
Communist Party of Great Britain, Co-operative Bank
Sort code: 089299, Account no: 65109991
IBAN: GB33 CPBK089299 65109991,
BIC: CPBK GB22
PayPal (we do prefer above payment methods as PayPal has a hefty fee).